For over forty years the Tellington TTouch Method has offered animal lovers and professionals alike; a positive, gentle and effective way to solve behavioural issues, enhance performance, and improve communication and relationships between humans and animals. 
Look beyond behaviour and help your animals become their best selves though a series of unique bodywork, groundwork and functional exercises that help create physical balance through good posture, relaxation and overall enhancement of trust.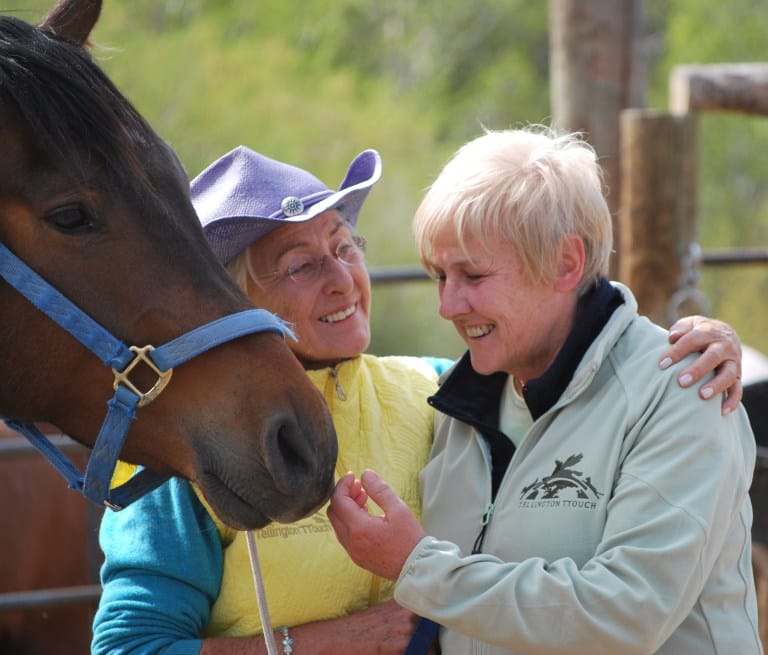 Our instructors are the heart of our organization.
The Tellington TTouch Method is an ever evolving body of exercises and techniques based on a fundamental set of principles of respect for all beings and the interconnected nature of physical, mental, and emotional balance.
Our teachers and instructors are dynamic, inclusive, and creative individuals devoted to the betterment of animals and their people through knowledge, awareness, and understanding.  Each teacher brings their own spin to the work, providing a supportive, multi-layered learning experience.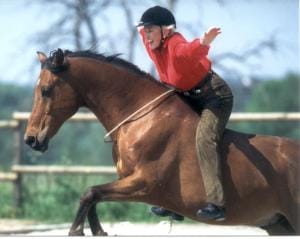 Linda Tellington-Jones' highly effective and revolutionary approach to working with animals has brought her worldwide recognition. She is the founder and president of Tellington TTouch Training with certified TTouch practitioners for horses, companion animals and humans in 27 countries.
Her pioneering work has its roots in a philosophy that sees all beings — humans and animals alike — as reflections of a Divine Whole. The Tellington Method was first created 4 decades ago as a system of animal training and communication that allows people to relate to animals in a deeper, more compassionate way — a way that furthers inter-species connection and honors the body, mind and spirit of both animals and their people. She is the author of 17 books in 13 languages.
In 2007 she was awarded an honorary PhD from Wisdom University and appointed as Chair for the Wisdom University Institute of Interspecies Connections.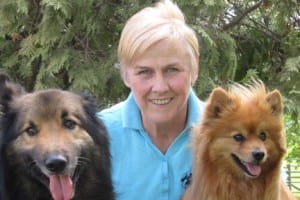 Robyn, Linda's youngest sister, has been riding horses since before she could walk. She went through Pony Club and showed as a junior competitor in Alberta. She later attended and then instructed at the Pacific Coast School of Horsemanship in California owned by her sister Linda Tellington-Jones. Robyn competed successfully in hunter, jumper, three-day eventing, endurance, western events and more recently with gaited horses, throughout North America and Europe.
In 1982 Robyn became involved full-time with the Tellington TTouch Method. For the past three decades she has been the editor of the TTEAM Newsletter and principle of Tellington TTouch Training Canada. Since 1986 she has been teaching TTouch on a full-time basis in Canada, the US, Europe, South Africa, Asia, and Australia and New Zealand, spending about 160 days a year traveling. Robyn has given demonstrations and lectures at various venues including Spruce Meadows; Equitana USA, Equitana Asia Pacific, and Germany; Western College of Veterinary Medicine at the University of Saskatchewan; International Humane Society Conference in Vienna and Murdoch University in Perth.
Robyn, along with her daughter Mandy Pretty, have written and published several TTouch related publications to enhance the ongoing development and refinement of the Tellington TTouch Method.  "All Wrapped Up:For Pets",  "All Wrapped Up: For Horses",  "All Wrapped Up: For You", and "Harnessing Your Dog's Perfection" are available through the online store.
Besides teaching around the world and at her farm in Vernon, BC, she and her husband have been importing and breeding Icelandic horses since 1976. In addition to their Icelandic herd which numbers around 40, they also share their farm with a cat, two dogs and a very talented parrot named Frances.
Kathy's introduction to dog training began in 1991 when Spirit, a slightly wild and wonderful Alaskan Malamute puppy, came into her life. Kathy and Spirit's partnership lead them to the obedience ring, participation in flyball, agility, and as a visiting Therapy Dog/Handler team in hospitals and nursing homes. Searching for a truly respectful and gentle approach to working with animals, Kathy and Spirit attended their first Tellington TTouch workshop in 1994. The work resonated so much with Kathy that she went on to complete the first two-year TTouch Practitioner Certification Program, graduating in October 1996 and later becoming an instructor in 2003.
With her professional training and experience in Physical Therapy, Kathy offers a unique perspective on the neurophysiological and sensory aspects of TTouch to her students. Known for her creative, engaging, and often-humorous teaching style, Kathy believes learning should always be fun for people and animals alike.
Kathy's skillful approach to working with dogs with aggression and fear issues lead her to develop a series of seminars titled S.A.N.E. Solutions for Extreme Dog Behavior. Her calm, confident demeanor serves her especially well in working with these cases, and she has had great success helping many reactive dogs make the transformation from living in a state of fear to feeling safe in the world.
For as long as she can remember, Debby knew she would spend her life working with animals. She began to live the TTouch philosophy of creative problem solving even before she had any idea this would be her life's work; she was extremely allergic to anything covered with hair or fur!
Of course she dreamed of having a dog. Her turtle named Herman and her canary, Tangie, were wonderful but it wasn't the same as thoughts of walks around the block with her very own dog. One day her parents learned that poodles didn't shed. Shoni, a silver miniature poodle, soon became her best friend.
Debby's interest in health and well-being was sparked by her childhood companion animals, and continued with her becoming one of Oregon's first board certified veterinary technicians. She grew up breeding and showing horses, which gave her an extensive background into working with many different breeds and disciplines of horses. A horse born with severe neurological damage initially brought Debby to TTEAM and TTouch in 1984 after the veterinarians had done all they could to help the filly. The amazing progress Spirit made inspired Debby to use TTEAM and TTouch to improve the lives of animals and their people on a physical, mental and emotional level.
Debby's passion for helping people and animals in a fun, positive and creative way is evident in the many workshops and trainings she teaches every year. She has been a popular speaker at various international conferences including the Association of Pet Dog Trainers and the International Symposium on Rescue Dogs. She established TTouch in Japan and oversees the TTouch Companion Animal Practitioner Training there.
From the beginning, Debby has used TTouch to help humans as well as animals. Today Debby frequently works with people to help them reduce pain, recover from illness or injury and to improve mobility and function. She finds the TTouch work and philosophy to be an important part of helping people to find balance and well being in their lives. She often says, "TTouch isn't just what I do, it's who I am." TTouch philosophy has strongly influenced her life and that of her family. Her 2 wonderful sons were raised with these concepts and often asked their mom for TTouch when they had bumps and bruises.
Debby travels much of the year teaching trainings and working privately with individuals in North America, Europe, South Africa and various parts of Asia. She lives near Portland, Oregon with her human and animal family.
Born and raised with horses, Mandy Pretty was literally riding before she could walk.  As a child she was immersed in the world of horses, helping to start youngsters, exercise sales horses, as well as participating in demonstrations and competitions.
She has co-authored several books with Linda Tellington-Jones and Robyn Hood for horses and dogs and has co-developed these online courses.
Her exposure to the horse world was somewhat unconventional.  Daughter of clinician Robyn Hood, and niece of Internationally renowned horse woman Linda Tellington-Jones, meant that her norm for handling and interacting with horses was several decades ahead of its time.  Looking for tangible physical and emotional reasons for unwanted behaviour long before equine chiropractors, massage therapists, and acupuncturists were main stream meant that black and white behavioural labels like "stubborn", "lazy", or "disrespectful" were seldom used.  Instead, horse behaviour was looked at from a point of view as being the reaction to a concrete catalyst, looking at balance, pain, fear, and issues of rider communication.
Her clinics focus on creating a positive experience for horse and rider, while improving performance without compromising physical, emotional, or mental well being. Mandy teaches 1 to 5 day workshops throughout the year, offering several at The Icelandic Horse Farm. She is available for demonstrations, riding lessons, lectures, and clinics.
 Mandy is currently a Tellington TTouch Instructor, a Certified Connected Riding Instructor, and 4 Hoof SURE FOOT Equine Stability Program Professional.  She lives near Vernon, BC, down the road from Robyn and Phil (aka Grandma & Grandpa) with her husband Walt, and two young sons on their "Faux Farm". 
 Lindy started riding at age 10 in Stellenbosch near Cape Town, South Africa. The majority of the horses were rescued racehorses with problems. She was always surrounded by animals and her parental home was never without at least two dogs and two cats. She was given a rescued donkey in 1967 and had him for four years.

After studying Biochemistry, Microbiology and Genetics at university, Lindy moved with her husband Rick to Johannesburg in 1979. There she changed careers to become a computer programmer, and she is still involved in doing support for a consulting company.

In 1987 Lindy reached her dream and acquired her first horse 'Babyshoes' (ex-racehorse TB gelding) who stayed with her for nearly 21 years. Lindy has competed in dressage to Elementary level. In March, 1999 she attended a Natural Healing course for animals that included Reiki and Aromatherapy as well as an introduction to the Tellington TTouch® Method. She started her own therapy business in 2000. In January, 2001 she attended her first five-day TTouch® workshop for horses and hasn't looked back. She has been organizing the Tellington TTouch® practitioner training clinics in Johannesburg since 2002.

Now Lindy is a Tellington TTouch® Instructor for Companion Animals and for Horses. Besides organizing the practitioner training clinics for the Tellington TTouch® Method for horses, she gives clinics as well as private consultations for both horses and companion animals while traveling to all sorts of interesting places!
Andy Robertson, Tellington TTouch Instructor for Companion Animals, incorporates her skills as a Motivational Dog Trainer and Feldenkrais practitioner in her teaching. In the late 1980's Andy attended an evening demonstration of TTEAM, the original name for the Tellington TTouch Method. The TTEAM presenter did not touch a person or an animal, but had participants pair up and gave direction from the floor. At that stage Andy was ready for a change as she was uncomfortable with the way most others were training dogs and TTouch just felt "right". Changing how Andy touched her own dog has benefited all the other animals that she has come in contact with from that day forward. As a Motivational Trainer, Andy uses TTouch when she teaches Puppy classes as well as Teen and Adult classes. Andy teaches workshops and one-on-one sessions. While Andy mainly works with dogs, she is interested in working with other species and has had occasion to work with wildlife. Andy's special interest is with animals lacking the basic social skills needed to live in society.  The owners/partners find it very interesting how TTouch, Ground Work and use of TTouch Equipment can make changes that affect both the animals and themselves. Andy lives just outside of Sydney, NSW, Australia.
Many years ago Dawn adopted a four-year old red Doberman Pinscher named Chris (he came with the name). Chris was a large dog, weighing about 90 pounds, but he wasn't very confident around other dogs.  He would cower and run from them, or he would growl and snarl at them.
Dawn wanted to help Chris be more comfortable around other dogs and someone suggested that she try TTouch.  Dawn had never heard of this technique, did some research and found a two-day workshop in Portland.  She was amazed at the difference in Chris at the end of the two days.  He seemed more confident, was able to calmly walk near other dogs and have them walk by him without reacting.
The combination of gentle body work to release fear and tension, and groundwork to improve balance and confidence made sense in addressing behavior issues related to stress, fear and anxiety.  The work resonated so much with her that she completed the two-year certification course, and became a TTouch Practitioner in 2003,  a Senior Practitioner in 2017 and an Instructor in 2021.
Dawn brings compassion, patience and understanding to her work and I am passionate about helping pets feel comfortable and confident living in our human world.  When your pets feel safe and confident you will see fewer behavior and/or health issues.  Happy pets equal happy pet owners.
Dawn is a member of the Pet Professional Guild and volunteer at the Oregon Humane Society.  She enjoy camping, hiking, snowshoeing, and shares her home with her husband and dog.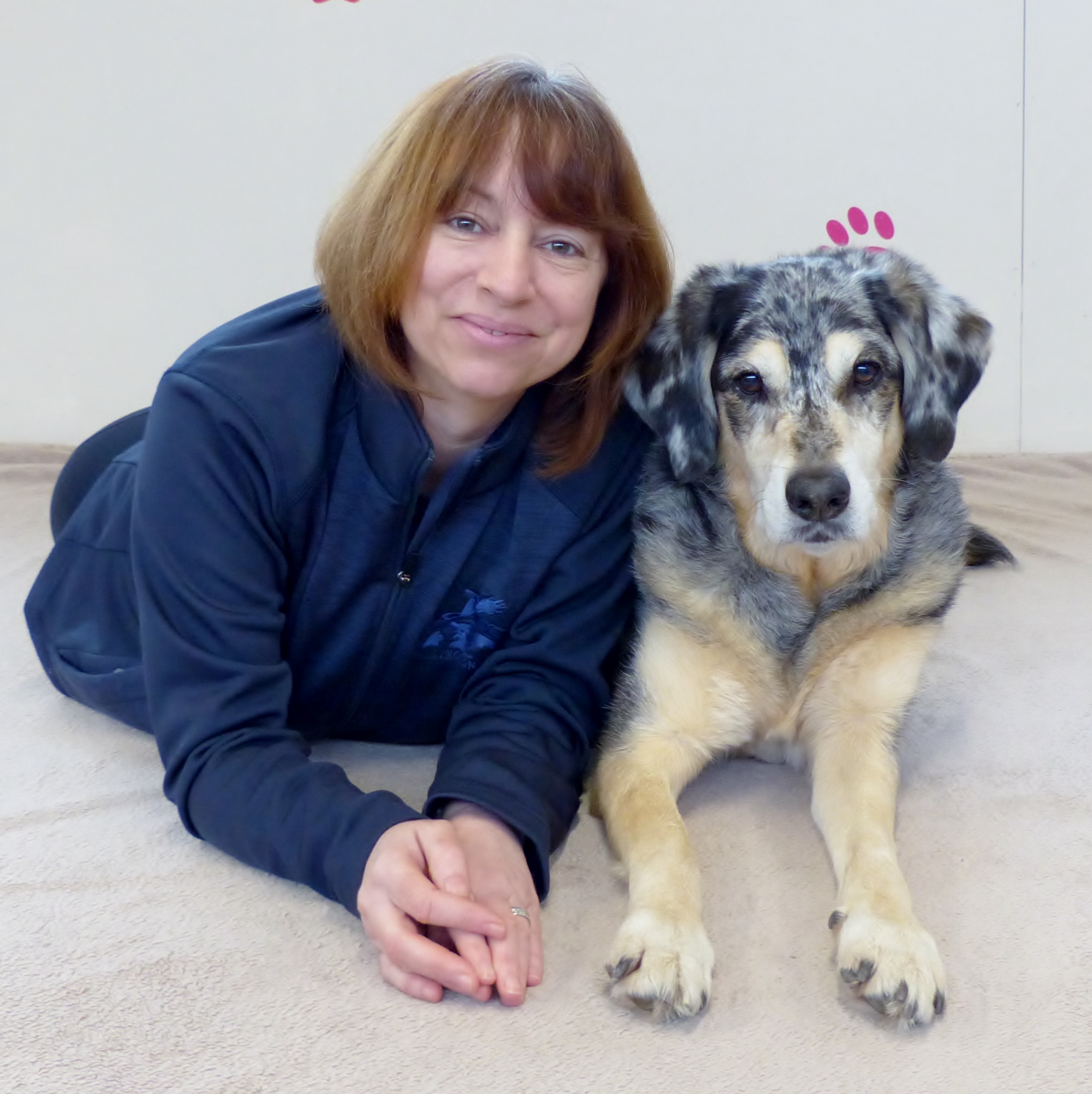 Toni has worked with domesticated and wild canids since 1989. After a long and successful career with the Guide Dogs for the Blind Association, she started her own business as a Tellington TTouch Companion Animal Practitioner and now Instructor.
She is now one of the highest qualified Practitioners in the UK. In 2001 her skills in TTouch took Toni to the UK Wolf Conservation Trust were she meet a pack of socialised wolves. She went on to work with them for over a decade as a Senior Wolf Handler and Education Officer for the organisation. In more recent years, Toni has gone on to become a Real Dog Yoga Instructor, (Visit This page to find out more) and updated her qualifications in behaviour with the International School of Psychology and Behaviour, for which she is also an affiliate. She teaches all over the UK and abroad, works with clients' one to one, and writes. Toni lives in South Oxfordshire, England.
Over the last decade Toni has been developing her writing. She spent two years editing and writing features for Wolf Print, the UK Wolf Conservation Trust's international magazine. She went on to write for national dog magazines, rescue society newsletters and blogs. Her first and second book, The Truth about Wolves & Dogs, (Hubble and Hattie 2012) and Among the Wolves (Hubble and Hattie 2015) have been a great success. Her latest writing collaboration with co-author Karen Bush sees a series of books entitled HELP! My Dog is….All are available in paperback and eBook format on Amazon, with many more titles planned.
It all started 24 years ago when Rachel adopted a beautiful, sweet, two year old lurcher from a local rescue.  Fionn turned out to be petrified of other dogs, among other things.  In her desire to help Fionn, she started to investigate ways to make his life easier.  Rachel started to learn about dog behaviour, completing a two year dog trainer and behaviour course and have continued on a 20 year learning journey. Through my knowledge she has helped other people and their animals too.   This was how her beautiful, scared, sweet natured dog laid the foundations for what has become Rachel's passion. 
By combining Veterinary Physiotherapy, Tellington TTouch Training and other modalities, Rachel can help solve your animal's problems by creating a bespoke treatment plan for their unique needs, bringing them back into balance and creating a harmonious relationship between you and your best friend. 
Located in the North West of England, Rachel has many years experience teaching and working with animals and their people all over the UK.
Java showed up in Sage's life in 2001 as a frightened puppy who needed more support than she knew how to give. Dancing Porcupine, Sage's business, began in 2002 because she wanted a gentler method of training for Java. What started as a quiet little idea has grown into a much broader based business to include a variety of soulful solution for people and animals. Java is the reason Dancing Porcupine exists. Her dog, Reggae, is the reason she continues.
Dancing Porcupine offers behavior training, life coaching, telepathic services for living and deceased people and animals, animal hospice consulting, celebration facilitation, a variety of healing options and spiritual adventure trips to the Amazon jungle and other sacred sites.
Alex has a lifelong love of dogs and helping dog owners manage their dogs in a kind, ethical way.
He is a certified Tellington TTouch Practitioner (P2) and a member of the Guild of Tellington TTouch Practitioners. He is also a student member of the Association of Pet Dog Trainers and a certified Pro Dog Trainer. Alex is also a Senior Instructor at the Dog Training College and marketing director of pet products company, Xtra Dog – When he is not working, his interests include training his Siberian Husky, Arapahoe, and getting involved in dolphin and whale research. In 2007 he co-authored the book Whales and Dolphins of Great Britain with Dylan Walker. Alex does not believe in any form of punitive dog training and uses modern reward-based and concept training techniques, including clicker training, games based dog training and Tellington TTouch.
He also conforms to the code of practice of the Association of Pet Dog Trainers UK. He will not use equipment such as check or choke chains, prong or spike collars, electric shock devices in any form, high-frequency sound devices which are designed to startle or any form of aversive training techniques.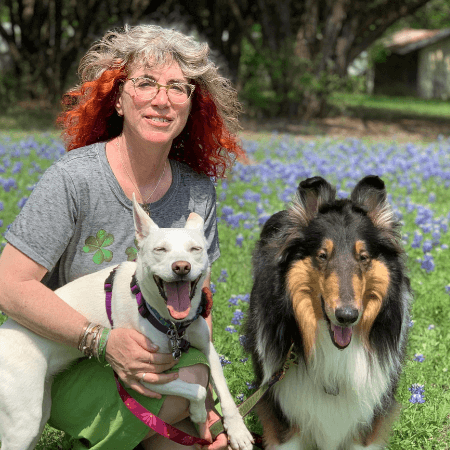 Jyl Hershman-Ross is a Level 3 Tellington TTouch Companion Animal Practitioner. She has studied with and assisted seminars led by Linda Tellington-Jones, Robyn Hood, Lucie LeClerc, Kathy Cascade and Debbie Potts in the United States, Australia, and Canada. She is a Behavior Consultant working with challenging, fearful, disabled and shy dogs, an experienced Certified Professional Dog Trainer (Knowledge Assessed) through the CCPDT, a member of the Pet Professional Guild, Certified in Pet Loss & Grief Companioning, a trained Red Rover Volunteer and a Canine Good Citizen and Trick Dog Evaluator for the AKC. She also is the in-house trainer for PAWs Shelter of Central Texas and trains their Canines Who Care Therapy Dog teams.
She enjoys working with rescue groups and shelters to help make dogs and cats more adoptable. She trains with her own dogs, and with clients and their dogs in a variety of sports for fun (Agility, Barn Hunt, Herding, Conformation, Air Scent, Nosework, Tracking, Lure Coursing, Therapy Dog, Rally-Obedience), and continues to learn new sports and attend webinars and seminars with a variety of respected international Trainers and Behaviorists to gain new skills and perspectives.
Growing up in South Africa, she felt as free as a bird, never had shoes on or winter clothes. This was where her love of animals took root. Their house was always full of animals of every description from snakes to rats, birds, dogs, cats etc. 
Her father was an ex-army officer who was very involved in intelligence work during the 2nd World War, & never really accepted civilian life. He ruled with an iron rod – every person & animal stood to attention when he was around. It was during that time that Niki began to feel that there was a better way to treat both people & animals and started helping with the neighbours dogs to teach them how to "be good dogs".
She has had quite a number of different businesses from Squash teacher to African hairdressing, to catering, to owning a food shop as well as helping her husband in his construction company. She worked for 2 years in the TTouch office with Eugenie Chopin, & it was there she learned about & became passionate about TTouch.
Niki qualified as a TTouch Practitioner Level 1 in 2003 and went on to qualify as a Level 2 Practitioner in 2005. In December 2003 she qualified to give Puppy Socialization classes and went on to incorporate clicker into all these classes after qualifying as a clicker Instructor in March 2004. In December 2005 Niki qualified as an Obedience Instructor through MacKanine.  
Together with Kay Aitcheson, the Puppies In Balance training school was started and they built  this from just one puppy class per week to doing 10 classes a week, some of  which include Adult classes in Obedience, Agility and Heel Work to Music. In January 2006 Niki qualified as a Kitten trainer and Practitioner. 
Niki is one of the co-presenters of the different courses offered through Bodies In Balance and has been a guest speaker on radio and television programs. Niki has written articles on TTouch, training and behaviour for Cats Life, Animal Talk, Dog Directory and several breed clubs as well as presenting TTouch workshops to Veterinary Nurses at Onderstepoort and assisting with training at the Police Dog Unit at Roodeplatt in Pretoria.
Dogs have been part of my family for as long as I can remember. I began training my dogs at a young age & so began my passion.
Not satisfied with training only my dogs, I began working with other people & their dogs. The aim was to help dogs become valued members of their family. So began my journey…
My passion for training led me to start questioning why certain dogs' perform or behave in a certain way compared to others & my journey to understanding these reasons began.
I found TTouch through the need to help one of my own dogs and I qualified as a TTouch Companion Animal Practitioner (Level 1)  in October 2006. In September 2013, I qualified as a Level 2 Practitioner & in 2017, I qualified as a Level 3 Practitioner.  Not satisfied with leaving things at that, I enrolled in the COAPE C04 Certificate in The Introduction to Canine Behaviour & Training, which I completed in 2009. The study bug bit again and in April 2011, I received my COAPE Diploma in Animal Behaviour and Training. I am currently furthering my studies in Animal Behaviour.
Over the years, I have competed in obedience trials placing first in several of them & Theo (my GSD) & I recently achieved Gold in the Canine Good Citizen tests.
I have been very blessed to have shared my life with my dogs – Jessie, Kalyn & Ronen who have sadly passed, but who taught me so much. I currently share my life with Theo, who is a blessing & brings much joy. He also keeps me humble & continues to teach me so much on a daily basis.
To all the animals who I have had the greatest privilege sharing my life with, as well as those that I have been blessed to work with – you have been my greatest teachers.
Learn more at:
I read about the Tellington TTouch® Training during my studies to become a Canine Behaviour Therapist some years ago. I was curious but quite skeptical – I needed to see and experience for myself if this Method could be of value in my work. And boy was I a fool to be skeptical…. it is of immense value every single day; it actually makes all the difference in my work with dogs.
The observational skills we use and share/teach, the many practical tools to help dogs cope, whether it be the TTouches, the Playground of Higher Learning or the leash handling skills, not to mention the compassion and understanding we have for the dog AND its owners is unique in the dog world.
I have become not only a better behaviourist, but also a much more knowledgable dog mom thanks to the Tellington TTouch® Training and its inspiring Instructors like Robyn Hood, Tina Constance, Lindy Dekker, Edie Jane Eaton and others. And I'm still learning every day!
I have been a certified Tellington TTouch Practitioner since 2016 and qualified as a P2 two years later. I've organized the Tellington TTouch® Trainings for Companion Animals in the Netherlands and Belgium since 2018.
I share my life with 2 rescue dogs and divide my time between the bustling city center of Amsterdam and the quiet countryside outside Breda where I look after my parents, their 2 cats and a dog. 
Clare Swanger knew for a long time that she would work directly with animals at some point.  Her dog Lindsey provided the catalyst.  Lindsey was wonderful in every way – except wow, did he pull on the leash!  While searching for a kind, effective way to resolve Lindsey's leash pulling, Clare discovered The Tellington TTouch book by founder Linda Tellington-Jones.  The respectful approach, heart-warming case stories and remarkable successes drew Clare in.
Clare earned Practitioner Certification in 2007 and was promoted to P2 in 2016.  Through her business The Comfortable Canine® LLC, she specializes in teaching dogs with shy, fearful and reactive behaviors to become calm and confident living in our human-centered world.  As part of her work, Clare particularly enjoys helping people better understand their dogs and supporting people/animal relationships. 
Clare works with individual clients and teaches workshops to dog owners and pet professionals in-person and online.  Clare lives in the mountains of central Idaho USA.